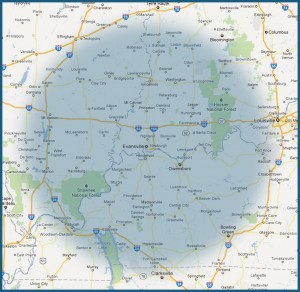 SERVICE AREA
We service a 100 hundred mile radius of Evansville Indiana
OFF-SITE DESTRUCTION
Documents are picked up at your location and brought back to our facilities to be destroyed. All documents are destroyed within 24 hours. You receive an affidavit of destruction with the invoice. Piranha is capable of shredding up to 4,000 pounds per hour in our destruction center.
ACCEPTABLE TO SHRED
DO RECYCLE – Colored paper, white paper, computer printouts, window envelopes, copy paper, manila folders and carbon-less paper. Paper clips, staples, binder clips and hanging file folders are acceptable to be with the paper to be shredded.
DO NOT RECYCLE – Newspaper, cardboard, carbon paper, kraft paper, plastic, magazines, batteries and 3 ring binders.
IN PLANT DESTRUCTION
We welcome you, as the customer, to bring documents to us and watch them be destroyed. We have a designated area for you to watch the destruction of your documents and our employees will unload your documents for you.
MAGNETIC MEDIA
DVDs, CD's, Floppy Discs, Microfilm, Microfiche, and Plastic Bottles are destroyed using a special shredder that pulverizes the material into very small pieces.
HARD DRIVES
Hard Drives are destroyed using a hammer mill.
OFFICE CLEAN OUTS
Piranha will do complete office clean-outs, including furniture and other items for disposal. This service is based on your needs and requests. Prices vary on the service. Estimates are free.